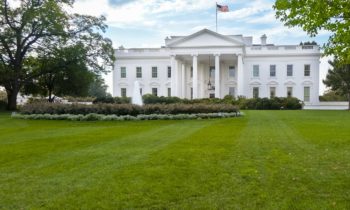 Donald Trump has thrown down the gauntlet, warning that any businesses trading with Iran would not be allowed to trade with the US.
Hailing the re-introduction of sanctions against the state, the US President tweeted: "These are the most biting sanctions ever imposed, and in November they ratchet up to yet another level. Anyone doing business with Iran will NOT be doing business with the United States."
He added: "I am asking for world peace, nothing less!"
His comments come just a day after the European Union said it was implementing a blocking statute to shield companies "doing legitimate business" within the country against the impact of US sanctions coming into force as a result of Trump's decision to withdraw from the multilateral Iran nuclear deal.
The blocking statute will allow EU companies to recover damages resulting from US sanctions and ban them from complying with sanctions unless they get special dispensation from the European Commission.
Under the deal Iran agreed to drastically scale back its nuclear programme in return for relief from sanctions introduced by the international community over fears it was developing nuclear weapons.
Below is a full rush transcript of the press conference by Senior U.S. Administration Officials.
The speakers for todays call are [Senior Administration Official One], [Senior Administration Official Two], [Senior Administration Official Three], [Senior Administration Official Four], and [Senior Administration Official Five]
Senior Administration Official One: I think [Senior Administration Official Two] and [Senior Administration Official Three] also have some opening remarks and mine are very brief. I just wanted to put the action today in a little bit of a context as we see it from the NSC. This action is part of a coordinated campaign of maximum pressure on Tehran that the President initiated from day one of his administration. He has brought a new clarity to looking at the malign behavior of Iran throughout the region, from Yemen to Syria to Gaza. They are using the resources they received from the Joint Comprehensive Plan of Action to spread human misery instead of investing in their people at home. We can have no further illusions about how they spend their money.
Facing this reality 90 days ago, the President took a historic action to withdraw the United States from the JCPOA and to put an end to the fiction that that deal would block Tehran from getting a nuclear weapon.
At that time there was a great deal of concern that the unilateral United States sanctions would not be effective against Tehran, that the United States would in effect be isolated. We heard this from everyone from the European Union to the University of Pennsylvania which Sigal and I are particularly sad about since it is our alma mater.
Three months later, however, a very different picture has emerged of what just the threat of snapback sanctions from the United States has meant to the Iranian economy. unemployment is rising, and there are protests over everything from social issues to labor unrest, and I think most significantly, those protests have focused on Iran's aggressive foreign policy with protesters shouting no to Gaza, no to Lebanon, no to Syria. I want this to be for Iran.
The most telling statistics from the Secretary of State's Reagan Library speech recently was that if you are a fighter for Hezbollah you get twice the salary that you would get as a firefighter in Tehran. If you get paid at all in Tehran. So clearly, that's where the regime is investing.
As we look at the next 90 days, we're going to have additional economic pressure as we approach the reimposition of petroleum industry sanctions in November. I think this will have an exponential effect on Iran's already extremely fragile economy.
The President has been very clear, none of this needs to happen. He has declared his intent, his willingness, rather, to meet with the Iranian leadership at any time to discuss a real comprehensive deal that will meet his standards of containing the regional ambitions, ending their malign behavior, and denying them all paths to a nuclear weapon. The Iranian people should not suffer because of their regime hegemonic regional ambitions.
I'd just like to conclude by thanking my interagency colleagues for all their support to the NSC throughout this process. Their work has really been the real work in this effort and we really appreciate their support.
Senior Administration Official TWO: I just want to say a little bit as we see the protests continuing across Iran, the protesters are angry at the worsening economy. They're fueled by economic mismanagement. And one of the things that's important is that to never lose sight of the fact that the Iranian people are the longest-suffering victims of the Iranian regime. We hope that the Iranian government will think seriously about the consequences that their behavior is having on their own people.
The United States stands with the Iranian people who are longing for a country of economic opportunity, fairness and greater liberty.
What we see is that as Iran expends enormous resources on its foreign adventurism, its people are becoming increasingly frustrated and the United States is deeply concerned about reports of Iranian regime's violence against unarmed, peaceful citizens. We support the Iranian people's rights to peacefully protest against corruption and oppression without fear of reprisal or violence.
Iran received an enormous financial windfall as part of the Iran Nuclear Deal. The regime then used the increased oil revenues as a result of the deal that could have gone to improving the lives of the Iranian people and instead they spent the money supporting terrorists, dictators, proxy militias, and of course the regime's own cronies. I encourage everyone to take a look at Secretary Pompeo's speech in California where he highlighted specific members of the regime and detailed their corruption.
We also see systematic human rights abuses inside the country as well as the lack of civil liberties, and the economic crisis that Iran faces, these are all the things that hurt the Iranian people the most.
The last thing I would say is it's very difficult for foreign direct investors to do business in Iran, to safely do business in Iran because investors never know whether they're facilitating commerce or terrorism when the Iran Revolutionary Guard Corps controls so much of the Iranian economy.
Senior Administration Official THREE: I'm going to briefly describe the actions that the President is taking. The President has issued a new Iran Executive Order to reimpose sanctions relating to Iran. As you know, on May 8th when the President issued the National Security Presidential Memorandum in which he directed the Secretaries of Treasury and State to take a number of actions to implement his decision to withdraw from the JCPOA.
So today's announcement is the next step in implementing the President's decision. Specifically, the administration is reimposing sanctions on Iran that had been lifted under the JCPOA. The snapback of these sanctions again support the President's decision to impose significant financial pressure on the Iranian regime, to continue to counter Iran's blatant and ongoing malign activities, and to seek a new agreement that addresses the totality of the Iran threat.
During the period of the JCPOA the Iranian regime demonstrated time and time again that it had no intention to seize its base support for terrorism, its support for foreign proxies and other malign activities. To the contrary, they have continued to promote ruthless regimes, to destabilize the region, and has already been discussed, to abuse the human rights of its own people.
As our sanctions have also been exposing to fund their illicit activities and evade sanctions, Iran has systematically exploited the global financial system and willfully deceived countries, companies and financial institutions around the world.
So this administration intends to fully enforce our sanctions as they come back into effect in order to impose economic pressure on the regime to stop its destabilizing activity and ultimately chart a new path that will lead to prosperity for the Iranian people.
Specifically, this new Iran Executive Order reimposes relevant provisions of five Iran sanctions Executive Orders that were revoked or amended in January 2016 in two phases.
The first wind-down period ends at midnight tonight at which point relevant sanctions will be reimposed. At 12:01 a.m. tomorrow, August 7th, sanctions will come back into full effect on the purchase or acquisition of U.S. dollar bank notes by the government of Iran; Iran's trade in gold and precious metals; the sale or transfer to or from Iran of graphite and metals such as aluminum and steel, coal and software for integrating industrial processes; certain transactions related to the Iranian rial; certain activities related to the issuance of Iranian sovereign debt; and Iran's automotive sector. Wind-down authorizations will no longer be valid after August 6th with respect to the importation into the United States of Iranian origin carpets and foodstuffs and transactions related to the purchase of commercial passenger aircraft will be prohibited.
After the 180-day wind-down period ends on November 4, the U.S. government will reimpose the remaining sanctions that had been previously lifted under the JCPOA. The final round of snapback sanctions will include the reimposition of sanctions on Iran's oil exports and energy sectors; financial institutions conducting transactions with the Central Bank of Iran; as well as sanctions related to Iran's port operators and shipping and shipbuilding sectors; and sanctions on the provision of insurance and financial messaging services.
Today's Executive Order and the snapback of sanctions on Iran is part of the President's broader strategy to apply unprecedented financial pressure on the Iranian regime. We are intent on cutting off the regime's access to resources that they have systematically used to finance terror, fund weapons proliferation and threaten peace and stability in the region. Our actions will severely limit the ability of Iran, which is the largest state sponsor of terrorists to gain funding to continue to finance its wide range of malign behavior.
Under this administration OFAC has issued to date 17 rounds of sanctions designating 145 Iran-related persons. This includes six rounds just since the President's decision in May, including actions related to its financing of the Quds force and Hezbollah and the leadership of the Central Bank of Iran in those actions. Its ballistic missile program, its aviation sector, its use of front and shell companies and a number of other deceptive means to gain access to currency for the Quds force, Hezbollah and others.
This administration is fully committed to rigorously enforcing our sanctions and ensuring that Iran has no path to a nuclear weapon. The economic pressure campaign is central to our efforts to ensure that they change course.
QUESTION: I would like to ask a question on the role of China. So in the past China has been somehow able to circumvent unilateral U.S. sanctions. Moreover, it has seen restrictions on Western businesses have Chinese businesses to step up their presence in Iran and strengthening the ties between China and Iran ? Do you expect this phenomenon to happen again? And how would you counter such developments if they happen again?
Senior Administration Official One: I'd just say quickly, though, if there was great confidence that China was going to step in and rescue Iran's economy rendering the United States irrelevant, we would not have seen what's happened to the Iranian economy over the last 90 days.
Senior Administration Official TWO: I think on the question of sanctions enforcement and secondary sanctions, we don't preview or publicize that, but maybe I could ask Official Three about our policy on sanctions enforcement.
Senior Administration Official THREE: I think China and other countries, and companies worldwide including of course global financial institutions and other financial institutions, are hearing our message loud and clear, which is that we are going to aggressively enforce our sanctions. And that puts a very important test to those companies, those banks, and those governments of who they want to do business with. China is well aware of the seriousness with which we're going to aggressively enforce those sanctions. And of course ultimately, we want to work with China. We don't want to work counter to China. But they must understand that we're very serious about enforcing these sanctions. That's what the President has directed us to do.
Senior Administration Official TWO: It's worth emphasizing that the purpose of a robust sanctions enforcement is to deny the regime the revenues that it uses from commercial enterprises to finance terrorism and other malign programs around the Middle East and the world.
So the point of this is not just pressure for pressure's sake. We are working very hard to deny the regime money which it spends in Syria to support Assad, to support Lebanese Hezbollah, to support its Shia militias in Yemen, and its other range of behaviors which sew violence across the Middle East, and so that is the purpose of our maximum pressure campaign. It's to promote peace in the Middle East and to deny Iran the means to destabilize it.
QUESTION: I was wondering whether you had a comment on the updating of the blocking statute from the European Union and the Statement of Regrets that was issued this morning by the Europeans. And more specifically, if you think that the blocking statute can actually block anything ?
Senior Administration Official One: I would just sort of say the same as the previous question in terms of this not apparently having a lot of effect on the pressure on the Iranian economy, but I'll defer to [Senior Administration Official Three].
Senior Administration Official three: What we're seeing is company after company after company announcing that they're withdrawing from Iran. They understand both what our sanctions mean and that we will be, as we have already, we will be aggressively enforcing them and they, I think — they also are well aware of the other inherent risks of doing business in a country where so much, as Official Two already mentioned, so much of the economy is controlled by the IRGC and where it's very, very difficult to know in Iran who you're doing business with. Because as a number of our actions have exposed, they deploy all kinds of deceptive practices and means to cover up where the money is ultimately headed. And as we know, billions and billions have been used for a number of different malign purposes.
I also would point you to statements that were made recently by EID President Hoyer who has I think, likewise, has a great understanding of our sanctions authorities and doesn't appear to be particularly interested in helping to fund the Iranian regime.
Senior Administration Official TWO: I'd also add that foreign direct investment has been declining long before the President decided to leave the Iran nuclear deal. The Iranian economy is opaque. It does not follow international banking standards, and it doesn't follow the standards because…
Senior Administration Official THREE: I can carry out his sentiment which is again, as we've already said and as our actions have exposed, and frankly, as Iran's actions have exposed repeatedly, it's a very opaque economy. Iran, despite the fact that they were put on a course just as one example, to implement any money laundering, counter terrorist financing, standards within their country around the signing of the JCPOA, they have massively failed to do so. So there's no transparency in the economy. There are no AML/CFT standards, which we would expect, frankly, of any economy that wants to join the global system of commerce. None of that is there, which is all the more frightening I think for a number of companies and countries when they consider that when you invest in Iran you absolutely don't know, for the most part, where your money is going to. But what you do know is that the regime continues to be intent on supporting groups like Hezbollah, supporting what Assad is doing and the brutal activities that are underway there, on conducting attacks against some of our closest partners and allies, and who wants to be a part of that?
QUESTION: How would you respond to the criticism that the strategy of applying sanctions on Iran did not work in the past? In fact, Iran was able after the sanctions, it was able to expand its control and influence over many Arab states by proxy. So despite imposing sanctions, do you coin a strategy to counter Iran's expanding influence in the region?
Senior Administration Official One: Just to clarify, your question is based on the premise that sanctions have not worked in the past, and so why would we think they're going to work now?
QUESTION: Correct.
Senior Administration Official One: I actually would question the premise of that. I think that the sanctions, just the threat of them has worked exceptionally well in terms of confusing Tehran's policy and undermining their ability to fund these things abroad. But I would turn that over to [Senior Administration Official Three] and then [Senior Administration Official Two].
Senior Administration Official THREE: Similarly, I would question the premise of your question. There is no question that sanctions were what brought Iran to the table in the last go-around. This administration feels quite strongly that the deal that was brokered as a result of sanctions wasn't the right deal for a number of reasons that have been previously articulated.
So in fact we believe strongly that the sanctions do work, they are having an impact, they are countering Iran's maligned influence, and we are very dedicated to continuing to achieve the impact that we believe that we, we are now better equipped to have with the President's decision.
Senior Administration Official TWO: It's also the case that when you lift sanctions, this is [Senior Administration Official Two]. I'm sorry the call dropped earlier. I'm traveling in Europe.
When you lift sanctions, as we did with the JCPOA it actually increases the amount of money available to Iran. And you have to ask the question, why would Iran spend less money on terrorism when they're given more money to spend on terrorism, and that's exactly what…
QUESTION: This is actually a question from Iranian Foreign Minister Zarif who this morning in a speech told journalists in Tehran if the U.S. says that they are doing this to support Iranian people, ask the U.S. administration, "If you are supporting Iranian people why are you putting sanctions on sale of civilian aircraft which is predominantly used by the Iranian people?" End of quote. And if I may I would like to add that we've been talking to people who say there is no evidence of Iran using the aircraft it has purchased recently in the airlines which ferry arms or forces to Syria, if that is the reason.?
Senior Administration Official ONE: I would just respond that if you want to cast responsibility for these sanctions you need to look no further than Mr. Zarif and his regime that has systematically exploited that beautiful country for the last 40 years and violated every norm of international behavior.
I'd point out that recently they've been caught trying to hatch a bomb plot in Paris, of all things. That's barely even considered bad manners. But I'll defer to [Senior Administration Official Three].
Senior Administration Official THREE: Look, as we've exposed in a number of different actions, the Iranians have used these airlines, in fact including airlines that fly unfortunately all over the world, as a mechanism and a means to transport Quds force, transport lethal weapons, and undertake other malign activities. You just need to look at how often these airlines, like Mahan Air fly back and forth repeatedly to Syria. They're not doing that for tourism purposes. They have a sole objective in mind.
So I understand that this is going to be a new narrative that we're going to hear, but it's really up to the Iranian regime to stop the use of these airlines to continue to export terrorism, to continue to undertake destabilizing activity in the region, and likewise, we've seen these airlines, just as a number of other sectors in the Iranian economy, use front companies, shell companies to try to deceive other governments and companies as to what the real purpose is for their business.
So you're going to continue to see pressure on the aviation sector. We think it's very important explicitly because of the way that Iran uses these airlines.