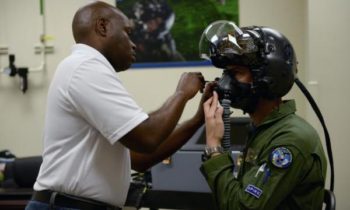 A new pilot helmet with three integrated technologies for improved situational awareness has been issued to a Norwegian F-35 pilot for the first time. The U.S. Air Force reports that the Generation III F-35 Helmet Mounted Display System from Rockwell Collins was given to the in-training F-35 pilot late last week at Luke Air Force Base in Arizona.The helmet incorporates improved night vision, optics and liquid-crystal displays.
The heads-up display usually projected onto on a piece of glass at the front of the cockpit is on the helmet itself. Data such as horizon, speed, weapon status and altitude are displayed on the helmet visor so they are always in the pilot's field of vision.
Night vision capability — including infrared — is built in so no need for special goggles.
"By integrating three advanced technologies, helmet-mounted display, head up display and visor projected night vision, the Generation III helmet allows the F-35 to become the first tactical fighter jet in 50 years without a traditional Head-Up Display system," the Air Force said.
The new helmet is made of carbon fiber material, weighs just five pounds and is custom fitted for the pilot.