Multinational Scatec Solar plans to invest 70 million USD to build a 70MW solar photovoltaic plant in Labuan Bajo, a famous tourist destination in Indonesia's East Nusa Tenggara.
The plant's capacity is five times that of Indonesia's current largest solar power plant, the 15MW Likupang solar farm in North Sulawesi. The Oslo-based firm intends to begin construction of the 100-hectare facility later this year and start its operation by 2022, a year before the province hosts a G20 summit.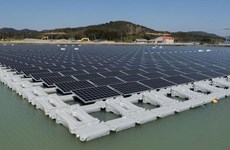 In Asia, Malaysia is Scatec's biggest operating country, said Southeast Asia representative Jeevaneswaran "Jeevan" Ramoo, adding next in development are Vietnam and Indonesia.
Despite Indonesia's commitment to boost usage of renewables, investments into the sector have been deterred by unfavourable regulations such as tight local content requirements.
Scatec itself faces challenges in acquiring solar photovoltaics for the Labuan Bajoplant due to local content requirement regulations. The company is evaluating local manufacturing quality and prices, said Jeevan.
The Norwegian company will be developing the Labuan Bajo plant with Indonesian renewables company PT Arya Watala Capital and tourism developer PT Flores Prosperindo.
Watala managing director Mada Ayu Habsari said that the company saw ample growth room for electricity consumption in Labuan Bajo because the beachfront is among the 10 areas slated to become tourism hotspots under a governmental programme.
Prosperindo president director Alfonso Pardede was also confident about growth room for electricity consumption in East Nusa Tenggara, citing the province's electrification rate of 85 percent – the lowest in Indonesia./.