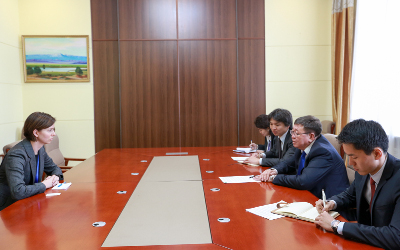 State Secretary of the Ministry of Foreign Affairs of Mongolia Damba Gankhuyag met with the ASEM Acting Senior Official for Norway, Jannicke Graatrud.
Gankhuyag briefed about the states which have confirmed their participation in the ASEM Summit to be held in Ulaanbaatar in July 2016, and asked the Norwegian side to seek the possibilities of participating in the event too.
Jannicke Graatrud said Norway is working to set-up a visa center in Ulaanbaatar to simplify the visa procedures to travel to Norway.
The sides then exchanged views on cooperation, particularly in broadening cultural ties, and agreed to study the feasibility of implementing joint projects through the International Cooperation Fund of Mongolia.
(AKIpress)