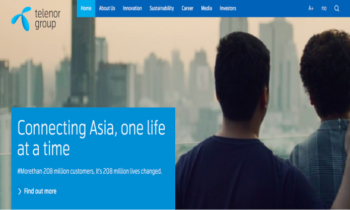 Norway-based mobile operator Telenor Group has acquired Malaysia-based licensed money services business Prabhu Money Transfer Sdn Bhd, in order to reinforce its mobile financial services footprint in Asia.
The terms of the deal are for the full share capital of the firm. An official statement from Telenor described Prabhu as a multi-country international remittance platform that provids remittance transfer services to various customer groups. The acquisition comes in the wake of launching an intrapreneur programme in April 2016, as well as openly establishing an agenda to develop and expand its footprint in mobile financial services.
In an interaction with SD Asia, a Bangladeshi startup news publication, Wollebekk stated: "We are now looking for different models to to reach more people who have no access to cash machines or bank branches. We want to make the entire mobile financial service platform more accessible to the more under-served remote population in the developing countries."
Telenor Group SVP and head of financial services Tine Wollebekk said, "The market in Asia is at a pivotal shift. The World Bank's 2014 Global Findex report shows that from the years 2011 to 2014, the percentage of adults with an account at a financial institution or mobile money service provider grew to 62 per cent from 51 per cent." With financial infrastructure a vital asset in all societies, and recognising the digitisation element impacting the financial services sector worldwide, Wollebekk said that eventually remitted money would be stored on a mobile wallet.
Telenor is already exploring the deployment and utilisation of mobile healthcare information services in Bangladesh, The acquisition of Telenor is present in 13 markets across Asia and Europe and already holds a 49 per cent stake in DiGi.Com Bhd, which is Malaysia's third largest telephony company.