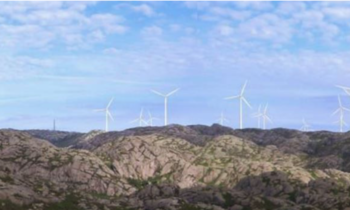 After extensive planning and preparation, Google expects to receive its first wind power from Norway by September, the company told Reuters on Wednesday.
The Tellenes Wind Farm, located in the region surrounding the ilmenite mines at Tellenes in the municipalities of Sokndal and Lund, Norway, was started in 2016 and is expected to be completed in the fall of this year.
The wind farm will have 50 Siemens turbines, generating a total installed effect of around 160MW. It is estimated that the wind farm will annually produce about 520GWh, equal to the electricity consumption of around 25,000 Norwegian households. Not only will the wind farm be the largest in Norway, but Google's biggest wind farm in Europe.
Last year, Google signed a 12-year contract to buy 100 percent of the wind farm's output. Google has four European data centers, in Finland, Belgium, the Netherlands and Ireland, and the power will be used to supply one or several of them, according to The Street.
"We'll purchase power as soon as the wind farm becomes fully operational, which we expect will take place in early September 2017," a Google spokesman told Reuters. The Tellenes Wind Farm's first turbine is expected to start generating power by next week, said Olav Rommetveit, a spokesman for farm maker Zephyr.
"Google will not immediately get the supply. It has an exclusive contract for 12 years and they will begin getting the electricity at some point after commercial operations begin," said Rommetveit. The electricity produced until the wind farm reaches full capacity later this year will be sold on the Nord Pool power exchange.
Swedish wind power company, Arise, will be the farm's operator.
(digitaljournal)