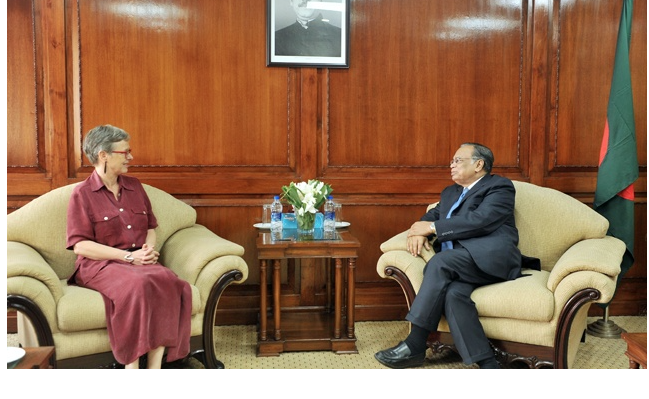 The newly appointed Ambassador of Norway to Bangladesh, Blake Sidsel, has met Bangladesh Foreign Minister Abul Hassan Mahmood Ali and State Minister for Foreign affairs Md. Shahriar Alam.
During separate meetings on Monday at the foreign ministry, they discussed bilateral issues and areas for further expanding the relations, the foreign ministry said.
The foreign minister recalled his visit to Norway in early September and expressed "confidence" that Norwegian foreign minister would visit Bangladesh in February 2017, as was agreed in Oslo.
Ali said there was "ample scope" of expanding the bilateral trade.
He said Bangladesh offers "significant" investment incentives which the Norwegian businesspeople can take.
The state minister sought the ambassador's support for technology transfer from Norway "to identify and quantify our marine resources".
He encouraged Norwegian investment in renewable energy.
Norwegian company 'Scatec Solar' offered $800 million investment to generate 500 MW solar power in different parts of Bangladesh when Foreign Minister Ali was in Oslo.