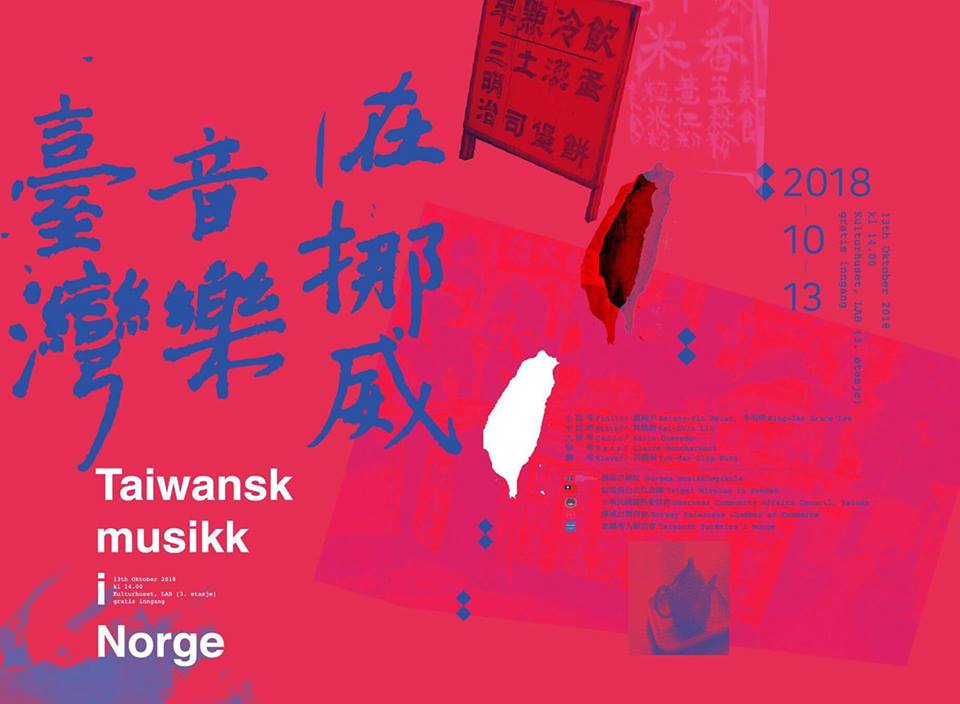 Taiwan has just celebrated its 107th National Day of Republic of China on October 10th.  Countries around Asia have been drawn to Taiwan´s example the past 20 years regarding democracy, human rights, health care and tackling environmental issues. Taiwan is a green island country with great nature, rich in Chinese folk culture but also with many indigenous tribes with their own distinct artistic identity. Taiwan has undergone several economic, social and political changes through its cultural history . Taiwanese folk music reflects those issues in their own way.
On Saturday October 13th some musicians from Taiwan, Spain and France are to play for free some lovely Taiwanese folk songs arranged for String Quartet, Harp Quintet etc.  Their concert at Kulturhuset, LAB 3. floor, Youngs gate 6  is between 2  and 3:30 p.m. Except Ming-Jen Grace Lee, the other musicians are students at Norway's music college in Oslo.
The musicians are
Violin: Hsiang-Yin Hsiao, Ming-Jen Grace Lee                                                                                                                                                   Viola: Kai-Shin Lin                                                                                                                                                                                                         Cello: Maria Quevedo                                                                                                                                                                                                  Harp: Claire Moncharmont
Piano: Yun-Han Olga Hung
Program:
Tyzen Hsiao:
The Song of Taiwan/ for Violin and Piano
The Vagabond/ for Violin and Piano
I Love Taiwan/ for Viola and Piano
Bang Chhun Hong/ for Viola and Piano
Chu-Shui Chen:Memories/ for Violin and Piano
Lee Che-Yi:
Four Taiwanese Folks Fantasy/ for Harp Quintet
When the Drum Beats/ for String Quartet
The Temple Square/ for String Quartet
Yilan Dance/ for String Quartet
Jing-Peng:
Sunset at Tamsui/ for String Quartet
The one I yearn for/ for String Quartet
The grasshopper messing with the rooster/ for String Quartet
Organizers are Norway's music college, Taipei Mission in Sweden, Overseas Community Affairs Council, Taiwan, Norway Taiwanese Chamber of Commerce, Taiwanese Association in  Norway .
Mr. Geir Yeh Fotland – Taiwan National Correspondent NORWAY NEWS.com
Email: – geiryeh@gmail.com, or news@norwaynews.com