Full story
Norwegian govt presents plan to ensure digital employment
[18.04.2016, 05:59pm, Mon. GMT]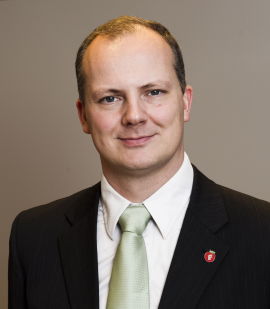 Norwegian Transport and Communications Minister Ketil Solvik-Olsen said a joint document has been drawn up concerning the development of electronic communications infrastructure, with the aim of ensuring digital employment in Norway. This e-coms plan is part IV of the White Paper 'Digital Agenda for Norway – ICT for a simpler daily life and increased productivity'. It is just as important to talk about electronic infrastructure, as it is to discuss railways and highways, he said.He said telecoms and the internet are basic necessities for business, administration and for the public. Solvik-Olsen said investment in e-communications should be commercially viable, and customers ought to be able to subscribe to services easily and at a reasonable price. One in four krone earned by telecoms operators in the country is re-invested.


New operators, technologies, services and business models mean regulation needs to be updated, he said. The government's target is for 90 percent of Norwegian homes to be passed by an internet service at a minimum of 100 Mbps by 2020. Commuter trains need good mobile coverage, he added, and the government has signed agreements with Telenor Norway and Telia Norway to develop infrastructure along railway routes.

Secure communications is a key goal of the e-coms plan, and he stressed that operators are obliged to have between two and four hours' back-up electricity. The government will ensure there is three days' reserve power for places that are important to the security of the nation and for local contingency and rescue operation.

Norwegian telecoms regulator Nkom has produced a guide for municipal administrations on what to look for when they are purchasing electronic communication services, he said. The ministry will study better coordination of public procurement of e-communication services with adequate security and robustness, says Transport Minister, Solvik-Olsen added.

Nkom and the transport ministry will cooperate with the Department of Justice and the Health and Social Care Department and their subordinate agencies to ensure the use of modern technology by emergency services and of security and resilience. For example, requirements will be brought in to make positioning data on mobile phones more precise, and the eCall emergency facility for vehicles will be instigated.

The national government will lay the groundwork for the development of data centres and digital business. It has already reduced electricity fees for large data centre from 2016. In addition, Nkom plans to analyse demand and accessibility to infrastructure from major data centres.

Solvik-Olsen said the government will look at European developments concerning internet neutrality carefully and consider national measures within the European framework.

He also pointed out that a national broadband forum has recently been set up. He said modernising the copper fixed line network is a problem and the country must use the resources that it has at its disposal. He said fibre will not be universally available immediately, but there is much that can be done to ensure fast internet service during the wait for fibre.


Back
Special Interest
Advertisements