U.S. officials said they gained a key ally in their effort to push Sri Lanka to allow an independent investigation of Srilankan government atrocities carried out at the climax of the country's 26-year civil war against the Tamils in 2009. Eileen Donahoe, U.S. ambassador to the United Nations Human Rights Council in Geneva, said the council this week is set to accept a U.S. resolution to that affect during a meeting in Geneva that ends Friday, despite Sri Lanka's attempt to block it.

Sri Lanka is looking increasingly isolated in that effort. On Monday, Prime Minister Manmohan Singh of India, a country with warm ties to the Sri Lankan government, said India was "inclined" to back the resolution.




"We don't think of this as a symbolic vote," Ms. Donahoe said in an interview. "We see this as a meaningful effort to encourage the Sri Lankan government to take credible steps…We fear the government of Sri Lanka might fail to take those credible steps."



The motion, if successful, won't legally bind Sri Lankan President Mahinda Rajapaksa's government to any policy.

But Washington views it as a way of exhorting Sri Lanka not to cover up abuses by government soldiers during the final months of the war, a period during which a U.N. panel has said up to 40,000 civilians died.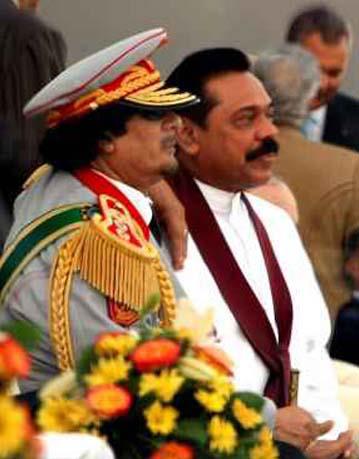 Ms. Donahoe said that building diplomatic consensus for the resolution was a struggle given that the abuses occurred three years ago and weren't part of an ongoing crisis.

Sri Lanka n officials say the U.S. is meddling in its internal affairs at a time when the nation is trying to forge reconciliation between the majority Sinhalese and minority Tamil populations after a war estimated to have cost 100,000 lives. Officials point to government efforts to build infrastructure in the Tamil-dominated north and east of the country, where the war was fought, which they say has led to annual economic growth of over 20% in those areas.

"We feel the U.S. is being intrusive," said Bandula Jayasekara, a spokesman for Mr. Rajapaksa. "Nobody likes pressure being brought unnecessarily without giving us time and space for reconciliation."

Mr. Rajapaksa's government, after defeating the Tamil Tigers and killing its leader in a military onslaught in May 2009, promised an independent probe into allegations the army had indiscriminately shelled schools and hospitals and the Tamil Tigers used civilians as human shields. But the government hasn't lived up to the promise, the U.S. and other nations say.

A state war- crimes report, published in December, largely exonerated government forces from blame for atrocities, while castigating the Tamil Tigers.

The government also has faced accusations, most recently in a report last week by the Brussels-based International Crisis Group, of allowing the Sinhalese-dominated army to remain in Tamil areas, control international aid spending in the region and grab land from Tamils to set up agriculture and tourism businesses.

Those allegations have angered India's Tamil population. A Tamil party that is part of Mr. Singh's coalition government threatened in recent days to pull its support if India did not support the U.S.'s resolution.

Robert Blake, U.S. assistant secretary of state for South Asia and Central Asia, said some of the commission's recommendations were sound—such as pushing the government to demilitarize Tamil areas and publish names of detainees—but even on these Sri Lanka has yet to take action.


"We think they've had quite a lot of time to develop an action plan and we're disappointed they haven't done so," Mr. Blake said in an interview.

The U.S. resolution will ask for Sri Lanka to set a timeframe for implementing the recommendations of its commission, as well as calling for Colombo to allow a truly independent investigation of war crimes.

A panel appointed by U.N. Secretary General Ban Ki-moon, in a report a year ago, also criticized Sri Lanka for failing to properly investigate war crimes and recommended an independent inquiry.

Sri Lanka deserves some credit for building schools and roads in Tamil areas, Mr. Blake said. "But much remains to be done to ensure that Tamils, especially in the north, can live in peace." The Wall Street Journal reports.

Pakistan known as Bin Laden safe house, "Bin Laden compound in Pakistan was once an ISI safe house." Pakistan opposes both Norway and the USA in the UN but Norway is the biggest nation from Europe to invest in the economy of Pakistan. Norway currently invests nearly $2b in Pakistan. Norway has joined other nations in calling for an investigation into civilian deaths in the country's long and bloody civil war.

Pakistan, China ink currency swap deal

China's central bank said that it has signed a 10-billion-yuan ($1.6 billion) currency swap deal with the State Bank of Pakistan.

The agreement will last for three years and is extendable by mutual consent, according to a statement posted on the website of the People's Bank of China (PBOC).

"China is fishing in troubled waters,"


Even India, Sri Lanka's long-time ally and traditionally the dominant power in South Asia, has found itself sidelined in the past three years — to its obvious irritation. "China is fishing in troubled waters," Palaniappan Chidambaram, India's Home Minister, warned in media.



The Chinese say that Srilankan Hambantota area is a purely commercial venture, but many US and Indian military planners regard it as part of a "string of pearls" strategy under which China is also building or upgrading ports at Gwadar in Pakistan, Chittagong in Bangladesh and Sittwe in Burma.


The strategy was outlined in a paper by Lieutenant-Colonel Christopher J. Pehrson, of the Pentagon's Air Staff, in 2006, and again in a report by the US Joint Forces Command in November. "For China, Hambantota is a commercial venture, but it's also an asset for future use in a very strategic location," Major-General (Retd) Dipankar Banerjee of the Institute of Peace and Conflict Studies in Delhi said.


China has no immediate plans for a full-fledged naval base but wants a similar foothold in the Indian Ocean to protect its oil supplies from piracy or blockade by a foreign power, China is also building a lotus tower Sri Lanka to monitor Indian Radio satellite signals analysts say.


China has cultivated ties with Sri Lanka for decades and became its biggest arms supplier in the 1990s, when India and Western governments refused to sell weapons to Colombo for use in the civil war. Beijing appears to have increased arms sales significantly to Sri Lanka since 2007, when the US suspended military aid over human rights issues.


Since 2007, China has encouraged Pakistan to sell weapons to Sri Lanka and to train Sri Lankan pilots to fly the Chinese fighters, according to Indian security sources to "Times online UK.




Pakistan, Srilanka and China refused to attend the Nobel peace prize ceremony in 2010.


China, Pakistan, Srilanka and 15 other countries declined invitations to the Nobel peace prize ceremony in Norway 2010, organizers said to media, as Beijing launched a fresh attack on the decision to honour jailed dissident Liu Xiaobo.