Full story
Deadly terror attack in Norwegian capital - At least 92 killed, 7 in blast, 28 injured, 20 in "critical condition, 5 still missing,
[22.07.2011, 06:24pm, Fri. GMT]
Two apparently coordinated attacks hit Norway on Friday, with at least
85 youths shot to death at a youth political conference
outside Oslo after a massive explosion in the capital's government district killed at least seven people, according to Norwegian police. The bomb blast in Oslo killed seven people, In addition, two people were also badly injured in the blast that hit government offices and media buildings, police said at a news conference.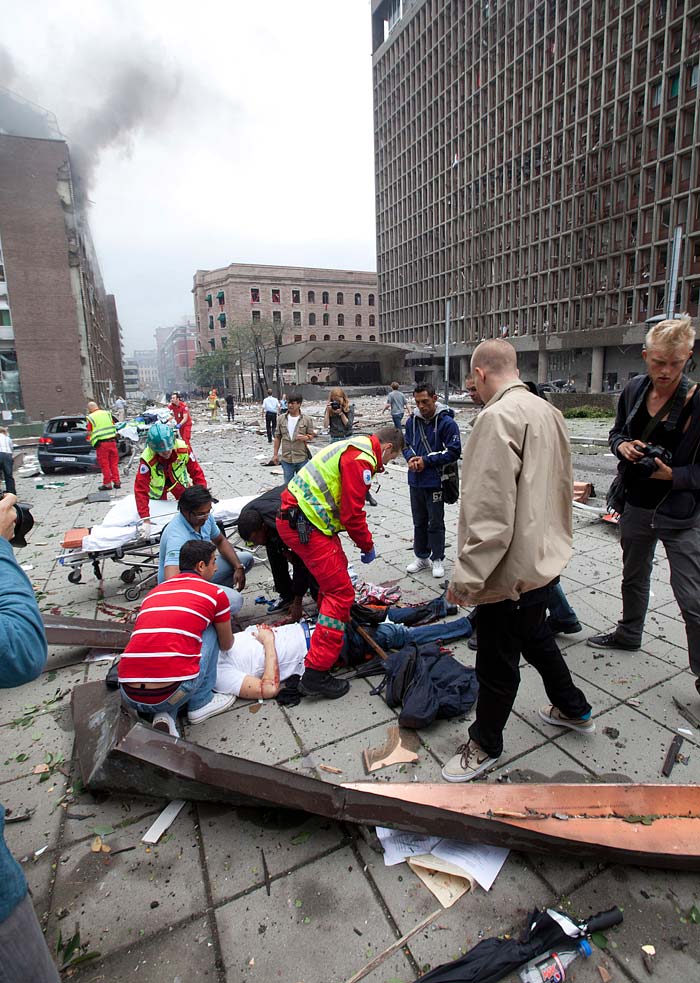 Police urged people to stay away from the centre of the capital and to refrain from using mobile phones to avoid overloading networks.

 Earlier, Thor Langli, in charge of the police operation at the scene, told reporters he had no details of the exact number of fatalities but said over 28 injured people had been taken to Oslo University Hospital, Twenty of them are in "critical condition". Police chief says 4 or 5 people still missing at scene of Norway youth camp massacre.


Langli could not confirm if the blast occurred on the street or inside the government offices.

The blast damaged the facade of the government offices, including blowing out windows and the front of the 17-storey building that houses the prime minister's offices.



Nearby ministries were also hit.

"This is a very serious situation," Prime Minister Jens Stoltenberg, who was unharmed, told public broadcaster NRK.

The premier declined to comment on possible motives, underlining the need for police and rescue services carry out their duties and at present the focus was on helping injured people.



Debris including broken glass littered nearby streets. A mangled car could be seen in front of the tower block.





Witnesses earlier said injured people were bleeding, suggesting they had been injured by flying glass.

"The whole building shook. We thought it was an earthquake," said a reporter with public broadcaster NRK who was near the scene when the blast occurred.

The offices of several media companies including newspaper VG in the vicinity were also evacuated.



Police later evacuated the main railway station.

Clouds of smoke were seen rising from the blast area, and police were trying to cordon off the area as a precaution should there be further explosions.

At Utoya, an island outside Oslo, a gunman dressed in a police uniform opened fire at a Labor Party youth camp, shooting several youths, party spokesman Per Gunnar Dahl told The Associated Press.



Stoltenberg reportedly had already met with key ministers and prepared for a meeting in the government's security council later on Friday. Several government ministers were on the way back to Oslo, having interrupted their summer vacations. So had Oslo's mayor Fabian Stang, declaring that "A terrible tragedy has struck our city."



Petroleum ministry among govt buildings bombed





The blast has caused "massive damage" to the country's Ministry of Petroleum has suffered "massive damage" as a consequence of the blast, according to a government spokeman. Norway is the world's seventh-largest oil exporter.



More than 1 person possibly involved in attacks

Norwegian Prime Minister Jens Stoltenberg on Saturday did not rule out the possibility there were several people involved in Friday's bombing and shooting spree which left 92 people dead.

Stoltenberg's comments come after a gunman dressed in police uniform opened fire at a youth camp of Norway's ruling political party on Friday, killing at least 92 people, hours after a bomb killed seven in the government district in the capital Oslo.

British Queen's shock over Norway killings

The Queen has written to the King of Norway to express her shock and sadness at the attacks in his country, Buckingham Palace said.

She said her and the Duke of Edinburgh's thoughts were with the Norwegian people.

Her message to King Harald read: "I am deeply saddened and shocked by the tragic loss of life of so many people on the island of Utoya and in Oslo.

"Prince Philip joins me in extending our heartfelt sympathy to Your Majesty and the people of Norway. Our prayers and thoughts are with everyone who has been affected by the dreadful atrocity."

Obama extends condolences

President Barack Obama says a bombing that killed at least seven people in Oslo, Norway, is a reminder that the world has a role in stopping such terror from happening. He also expressed his condolences to Norway's people.

Oslo is known for the Nobel Peace Prize that's awarded there and Obama was the recipient in 2009.





Secretary-General condemns



In a statement issued by his spokesperson, Mr. Ban said he "condemns this violence and expresses his condolences to the Government of Norway and the families of the victims. The United Nations stands together with the people of Norway at this terrible moment."



Australia condemns attacks

Australian Prime Minister Julia Gillard has joined international condemnation of the terror attacks in Norway, describing the twin bombing and shootings as "brutal and shocking".

Prime Minister Stephen Harper condemned the "barbarous and senseless" attacks in Norway.

Harper said in a statement he was deeply shocked and saddened to learn of the bombing in Oslo as well as a mass shooting at a youth camp on a nearby island.

"Canada condemns these barbarous and senseless acts of violence and our thoughts and prayers are with the victims, witnesses and all those affected by these attacks," he said in a statement. "On behalf of all Canadians, Laureen and I wish to express Canada's sincere condolence to Prime Minister Jens Stoltenberg and to the Norwegian people."



EU, NATO, UK condemn





World leaders have condemned the terror attack in Oslo which has left at least seven people dead.

Nato Secretary-General Anders Fogh Rasmussen called the blast a "heinous act".

Jose Manuel Barroso, president of the European Commission, expressed his "utmost shock", saying an attack of that magnitude is not "something one would expect in Norway, famously associated with peace at home and peacemaking abroad".

British Foreign Secretary William Hague said the UK stands "shoulder to shoulder" with Norway following the attack.

He added: "I send my deepest condolences to all those who have lost relatives or been injured in today's horrific bomb blast in Oslo.

"Our Embassy stands ready to provide assistance to any British nationals who may have been caught up in the attack."




New Zealand condemns



Acting Prime Minister Bill English has condemned the twin attacks that are reported to have killed at least 92 people in Norway and left many more injured.

"I'm shocked and saddened at the news of the bombing and shootings," Mr English says. "New Zealand joins with other countries in condemning these attacks on innocent people. Our thoughts and condolences are with the people of Norway at this time."

A bomb blast ripped through the government district of central Oslo earlier today and a gunman later opened fire on young people at a youth camp on a nearby island.

"At this stage, there are no indications that any New Zealanders have been caught up in either incident. There are 61 New Zealanders registered as being in Norway and our embassy in The Hague, which is accredited to Norway, is in the process of making contact with them to confirm their wellbeing.

"In the meantime, we advise them to follow instructions issued by the local authorities and exercise a high degree of security awareness at this time," Mr English says.



France calls Norway attacks "savage, blind" Politics



French Foreign Minister strongly condemned the bombing and shooting attack that killed several people in Norway Friday, calling them "savage and blind" acts.

In a statement, Juppe said he had learned with "deep emotion" about the bombing and shooting attack in the Norwegian capital, Oslo, attacks which were aimed at the office of the Norwegian Prime Minister and a gathering of his political supporters.



Latest reports indicated that at least 92 had died in the twin attacks.

"I want to express, in the name of the French government, my full solidarity with the Norwegian authorities, my condolences to the families of the victims and my sympathy for those hurt in these attacks," the Foreign Minister said.

The Norwegian Prime Minister's offices and a media building were shattered by the bombing Friday and a short time later a gunman opened fire on young supporters of the ruling party.



Germany sends condolences

Germany's political leaders were united in dismay and grief following the two attacks in Norway that led to over 92 deaths. President Christian Wulff sent a telegram of sympathy to his counterpart King Harald.

Wulff said in the message that he was horrified and shocked when he heard of the attacks. "I would like to express to you, also in the name of my compatriots, my deeply felt sympathies," the message said. "Germany and the Germans will stand firmly by your side in this dark hour."

Chancellor Angela Merkel said, "The Norwegian government and the Norwegian people should know that the German government and the Germans stand by their side in solidarity."

Foreign Minister Guido Westerwelle echoed Merkel's sentiments on Friday evening, shortly after arriving back in Berlin from a trip to Afghanistan. He also sharply condemned the attacks. "There is no justification for these barbaric acts," he said. "These attacks show that we in Europe also have to be vigilant against terrorism and terrorist attacks."

Local farmer, 32, under questioning; currently charged





Behring Breivik was still being questioned early Saturday and Norway's police website said the suspect is currently charged with breaking paragraph 147a of the penal code -- a terrorism offense, with a maximum sentence of 21 years. Norway police official tells media that attacks in Norway don't appear linked to Islamist terrorism.

"I had a best friend between the ages of 12-17 who was a Pakistani"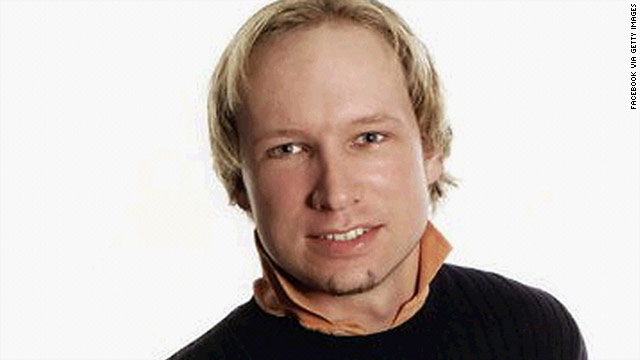 Breivik is a member of the Oslo Pistol Club and has three weapons registered in his name, according to leading Norwegian newspaper VG, citing Norway's official weapons register. They are a Glock pistol, a rifle and a shotgun, VG reported.

A post in Breivik's name on an online forum, Document.no, from December 2009, talks about non-Muslim teenagers being "in an especially precarious situation with regards to being harassed by Islamic youth."

"I know of many hundred occasions where non-Muslims have been robbed, beaten up and harassed by Islamic gangs," the post reads.

"I had a best friend between the ages of 12-17 who was a Pakistani, so I was one of the many protected

, cool 'potatoes' that had protection. But this also made me see the hypocrisy up close and personal and made me nauseous."

A Twitter account attributed to Breivik by Norwegian newspaper Aftenposten has only one message, dated July 17. "One person with a belief is equal to the force of 100,000 who has only interests," it says, adapting a quote from 19th-century British philosopher John Stuart Mill.

Police have not ruled out the possibility that other people may have helped the suspect.


Fatah Youth condemns terrorist attacks.

Fatah Youth released a statement on Saturday condemning attacks in Norway which have reportedly killed over 91 people.

"It is with consternation that we have received the dramatic news of an awful terrorist attack against a summer camp ran by our comrades of Norwegian Labor Youth 'AUF'," the statement said.

The Fatah Youth group had taken part in the summer camp in the past on the Island of Utoya , near Oslo, where a gunman reportedly killed over 80 people on Friday in a shooting spree, news reports said.

"Fatah Youth declares its consternation about the terror attack. There are no words to describe an attack against people that have been our comrades in our struggle for freedom and independence. Very few people have stood by our side as much as the Norwegian people, and particularly our AUF comrades."

"We know those who have been cowardly assassinated. Those are people that have stood for the human and national rights of the Palestinian people both in Europe and while visiting Palestine.

"Fatah Youth has participated for almost 15 years in the same summer camp and our youth has benefited by learning and sharing experiences on democracy and advocacy for peace and justice.

"We hope that those responsible for this criminal terror attack will be brought to justice. Such sick minds should not have a place in any society.

"As a people that has been victim of state terror for the last 64 years, the Palestinian people and particularly Fatah Youth presents its condolences to the families of those killed and sends a strong message of support to our comrades from the Norwegian AUF as well as from other sister parties that were participating in this summer camp," the statement concluded.

Claim Responsibility Via Jihadi Forums



Terrorists responsible for today's attacks in Oslo, Norway--which included the bombing of the Prime Minister's office and a massacre at a children's day camp by a gunman dressed as a police officer that has left more than a dozen allegedly dead--have claimed responsibility via social media.

An obscure group called Ansar al-Jihad al-Alami (Assistants of the Global Jihad) posted a message on an Islamist bulletin board called Smukh and may have uploaded a video to YouTube weeks ago several days ago in which they predicted the attack.



Ansar al-Jihad's Abu Sulayman al-Nasir allegedly posted a message claiming responsibility for the Oslo attacks on the Arabic-language jihadist forum Shamikh. According to a partial translation by terrorism expert Will McCants of Jihadica, al-Nasir claims the attacks were in retribution for the occupation of Afghanistan by foreign troops and unnamed insults to the Muslim prophet Muhammad. Al-Nasir also threatens further attacks:



We have warned since the Stockholm raid of more operations and we have demanded that the countries of Europe withdraw from the land of Afghanistan and end their war on Islam and Muslims. What you see is only the beginning and there is more to come.

The "Stockholm raid" reference is in response to a 2010 suicide bombing in Sweden.



Iran FM condemns



Iran's Foreign Minister Ali-Akbar Salehi condemned the Friday blast in the Norwegian capital of Oslo

In his message to his Norwegian counterpart Jonas Gahr Støre, Salehi condoled the minister on the blast which claimed lives of scores of Norwegian citizens.

He also expressed sympathy with the bereaved families of the victims of the incident.



Pakistani president condemns



Pakistani President Asif Ali Zardari on Saturday strongly condemned the attacks in Norway, which have reportedly left around 92 dead.


Britons told to stay indoors


Britons in Norway have been urged to stay indoors in the wake of the worst atrocity in the country's post-war history, it was announced here Saturday.

British Foreign Office travel advice warned there was a high threat from terrorism and called on British nationals to take extra care.

In a statement on its website, the Foreign Office said: "On the afternoon of 22 July there was an explosion in the centre of Oslo resulting in a number of casualties. "This was followed by a further attack at a youth camp on Utoya Island, 40km west of Oslo.

"We recommend that British nationals stay indoors for the time being. British nationals are advised to exercise caution, monitor local media reporting and follow advice given by the emergency services." The Foreign Office said that although it had reviewed it, its overall level of travel advice had not changed and there were no travel restrictions in place in Norway. About 250,000 British tourists visit the country every year.

Maltese nation's condolences with Norway

Prime Minister Lawrence Gonzi has expressed solidarity and sorrow with the Norwegian government and people on behalf of the government and the Maltese nation.

At least 99 feared dead in Norway shooting

At least 99 people are feared dead after a gunman opened fired at a summer youth camp outside of Oslo. About 600 people, most of them teenagers, were attending an event at the camp, which was reportedly sponsored by Norway's Labor Party. The shooting occurred just hours after a bomb explosion ravaged a key government building in central Oslo, killing at least seven. Norwegian Prime Minister Jens Stoltenberg, who was unharmed by the Oslo blast, had been scheduled to visit the camp on Friday.




New Zealander missing



A dual New Zealand/Norwegian national is unaccounted for following the shooting attack on Utoeya Island in Norway. Around 61 New Zealanders are registered as being in Norway and is advising them to exercise a high degree of security awareness and follow any instructions from the local authorities said Radio New Zealand.

Here is a snapshot timeline of some of the worst shooting incidents carried out by one or two gunmen around the world in the last 20 years:



April 1982 (South Korea)



Police officer Woo Bum Kong went on a drunken rampage in Sang-Namdo with rifles and hand grenades, killing 57 people and wounding 38 before blowing himself up.



Aug. 19, 1987 (Britain)



Michael Ryan, a 27-year-old gun fanatic rampaged through the English town of Hungerford, killing 16 people and wounding 11 before shooting himself.



July 1989 (France)



A French farmer shot and killed 14 people including members of his family in the village of Luxiol, near the Swiss border. He was wounded and captured by police.



Dec. 1989 (Canada)



A 25-year-old war movie fan with a grudge against women shot dead 14 young women at the University of Montreal, then killed himself.



Nov. 1990 (New Zealand)



A gun-mad loner killed 11 men, women and children in a 24-hour rampage in the tiny New Zealand seaside village of Aramoana. He was killed by police.



Sept. 1995 (France)



A 16-year-old youth ran amok with a rifle in the town of Cuers, killing 16 people and then himself after an argument with his parents.



March 13, 1996 (Britain)



Gunman Thomas Hamilton burst into a primary school in the Scottish town of Dunblane and shot dead 16 children and their teacher before killing himself.



April 1999 (USA)



Two heavily-armed teenagers went on a rampage at Columbine High School in Littleton, Denver, shooting 13 students and staff before taking their own lives.



July 1999 (USA)



A gunman killed nine people at two brokerages in Atlanta, after apparently killing his wife and two children. He committed suicide five hours later.



June 2001 (Nepal)



Eight members of the Nepalese Royal family were killed in a palace massacre by Crown Prince Dipendra who later turned a gun on himself and died few days later. His youngest brother also died later raising the death toll to 10.



April 26, 2002 (Germany)



In Erfurt, eastern Germany, 19-year-old Robert Steinhauser opened fire after saying he was not going to take a math test. He killed 12 teachers, a secretary, two pupils and a policeman at the Gutenberg Gymnasium, before killing himself.



Oct. 2002 (USA)



John Muhammad and Lee Malvo killed 10 people in sniper-style shooting deaths that terrorized the Washington, D.C., area.



April 16, 2007 (USA)



Virginia Tech, a university in Blacksburg, Virginia, became the site of the deadliest rampage in U.S. history when a gunman killed 32 people and himself.



Nov. 7, 2007 (Finland)



Pekka-Eric Auvinen killed six fellow students, the school nurse and the principal and himself with a handgun at the Jokela High School near Helsinki.



Sept. 23, 2008 (Finland)



Student Matti Saari opened fire in a vocational school in Kauhajoki in northwest Finland, killing nine other students and one male staff member before killing himself.



March 11, 2009 (Germany)



A 17-year-old gunman dressed in black combat gear killed nine students and three teachers at a school near Stuttgart. He also killed one other person at a nearby clinic. He was later killed in a shoot-out with police. Two additional passers-by were killed and two policemen seriously injured, bringing the death toll to 16 including the gunman.



June 2, 2010 (Britain)



Gunman Derrick Bird opened fire on people in towns across the rural county of Cumbria. Twelve people were killed and 11 injured. Bird also killed himself.



Aug. 30, 2010 (Slovakia)



A gunman shot dead six members of a Roma family and another woman in the Slovak capital Bratislava before killing himself. Fourteen more people were wounded.



July 22, 2011 (Norway)



Police seize a gunman, identified as a 32-year-old Norwegian, who killed at least 84 people at a youth summer camp of Norway's ruling political party, on the small, holiday island of Utoeya. Anders Behring Breivik is later charged with the killings, as well as with an earlier bombing in the centre of Oslo which killed at least seven people.

Back
Special Interest
Advertisements