Full story
Indian Intelligence, LTTE met 'secretly' before Sri Lanka truce: Eric Solheim
[13.11.2011, 11:56am, Sun. GMT]
Indian officials met in "secret" with the LTTE ahead of Sri Lanka's 2002 truce although New Delhi considered the Tamil Tigers a terrorist group, Norwegian cabinet minister Erik Solheim has revealed. The former envoy to Sri Lanka also said - confirming for the first time ever an IANS report of 2008 - that India played a covert role in events that led to the Tamil Tigers and Colombo signing a ceasefire agreement (CFA) nine years ago.

The repository of tremendous information related to the Tamil Tigers, Solheim spoke at length to IANS at his office here after addressing a meeting over the weekend where a report was released on Norway's role in Sri Lanka's peace process.

According to Solheim, the minister for environment and international development, Indian officials held a "secret meeting" with the Liberation Tigers of Tamil Eelam (LTTE) before the CFA was signed in February 2002.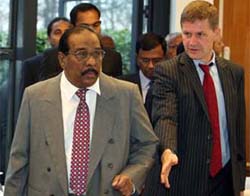 Solheim declined to say where the meeting took place or who participated in the meeting from the two sides.

If true, this would be the first known meeting between Indian officials and the LTTE since New Delhi banned it in 1992 for assassinating former prime minister Rajiv Gandhi a year earlier.

Solheim also added that contrary to public knowledge, the Indian government, then led by the Bharatiya Janata Party (BJP), played a key behind-the-scenes role in the framing of the Norwegian-sponsored CFA.

He said he himself held several meetings with India's national security adviser and officials of the Indian intelligence agency Research and Analysis Wing (RAW) as Colombo and the LTTE inched towards the CFA.

He said some meetings with RAW officials took place at the New Delhi airport.

IANS had reported the Indian covert role but without naming RAW due to a request from sources who gave details of the intelligence agency's involvement in the CFA - which until then was seen as an exclusive Norwegian baby.

The CFA ushered in months of peace in Sri Lanka before falling apart. The LTTE and the Sri Lankan regime went to war again in 2006, leading to the decimation of the Tigers in May 2009.

Solheim told IANS that as Sri Lanka's and LTTE leaders quietly discussed the CFA in 2001-02, New Delhi was kept informed of each and every development. India, he said, gave "sound advice" and "constantly good and refreshing inputs".


He said India did not want any "major international player" to get involved in the peace process and even suggested which countries should be part of the Sri Lanka Monitoring Mission (SLMM), a Nordic body meant to oversee the CFA.

Indian officials made it clear to Solheim, he said, that they were bitterly opposed to any break up of Sri Lanka and that "Tamil Eelam would never be acceptable".

Solheim added that LTTE ideologue Anton Balasingham, who died of cancer in 2006, understood India's importance in the region and maintained that "nothing done contrary to Indian interests will ever work".

But LTTE chief Velupillai Prabhakaran, who met Solheim about 10 times in all, starting in 2001, was an "absolute amateur" in international politics even though he was a "military genius", the minister said.

Balasingham also complained to Solheim that both Prabhakaran and LTTE intelligence chief Pottu Amman insisted for months that their group had no role to play in Rajiv Gandhi's killing.

"They tried to convince Balasingham that they had nothing to do with it," Solheim recalled. He quoted Balasingham as saying: "I did not believe the story, and they eventually stopped lying to me."



(New Kerala)
Back
Special Interest
Advertisements