Norsk Hydro to invest $ 514 million in pilot aluminium plant
[Norwaynews] [12.02.2015, 06:25pm, Thu. GMT]
Norsk Hydro, one of the world's largest aluminium producers, will invest 3.9 billion Norwegian crowns ($514.5 mln) in a pilot plant in Norway, the company said on Wednesday. The plant is for full-scale industrial testing of its so-called HAL4e technology and is expected to have an annual production capacity of 75,000 tonnes and to cost around 3.9 billion Norwegian crowns ($514.51 mln), it said in a statement on Wednesday.
Norwegian signs new agreement with Tour Operators
[Norwaynews] [11.02.2015, 04:39pm, Wed. GMT]
Norwegian continues its cooperation with several big tour operators by entering new agreements with TUI, Thomas Cook and Nazar. The agreements mean that Norwegian will fly charter passengers to several destinations in the Mediterranean. The agreements are worth over 400 million NOK and include almost 2,000 flights. "We're very pleased that we are able to continue to fly charter passengers for TUI, Thomas Cook and Nazar to popular destinations in the Mediterranean.

Norway and Germany sign deal to build underwater cable
[Norwaynews] [10.02.2015, 08:08pm, Tue. GMT]
Firms in Norway and Germany on Tuesday signed an agreement to build an over 600-kilometre long power cable linking the electricity networks of the two countries. The Nordlink project is estimated to cost 1.5 billion to 2 billion euros (1.6 billion to 2.2 billion dollars) and is expected to go online in 2020. About 500 kilometres of the cable is to run underwater, connecting Tonstad in southern Norway to Wilster in the northern German state of Schleswig-Holstein.
Norwegian company Active Brands opening headquarters in Denver area
[Norwaynews] [04.02.2015, 06:28am, Wed. GMT]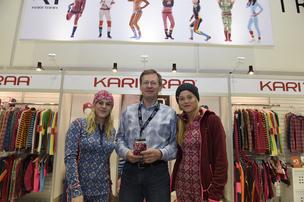 Active Brands AS, a Norwegian company that sells some of the most popular winter sports apparel in Scandinavia, is opening its North American headquarters in Denver as it branches outside Europe for the first time. Company officials are still weighing locations and are likely to launch only with about 10 operational, marketing and sales staffers when the office opens by June, said Bob Donker, director of international sales.
SBS Discovery Norway acquires truTV content
[Norwaynews] [28.01.2015, 03:36pm, Wed. GMT]
NonStop Entertainment, a part of Turner Broadcasting, and SBS Discovery has entered a 2 year volume agreement for truTV content. Titles include top-rating programmes The Carbonaro Effect, South Beach Tow and long-running franchise The World's Dumbest. truTV, Turner Broadcasting's new general entertainment channel, gets its first volume agreement in Scandinavia with SBS Discovery Norway, who has acquired exclusive first choice of all truTV programmes from Turner Broadcasting's Scandinavian film- and tv distributor NonStop Entertainment.
Norway to Remain Stable Gas Supplier to EU
[Norwaynews] [21.01.2015, 05:12pm, Wed. GMT]
Norway will remain a stable gas supplier to Europe for many years to come, Norwegian Prime Minister Erna Solberg said Wednesday. The announcement was made at a press briefing after her meeting with President of the European Council Donald Tusk in Brussels, Belgium. "We have discussed interdependence on energy security in Europe. And I would like to underline that Norway is and will continue to be a stable and reliable gas supplier to the EU for many years to come," Solberg told journalists.
2014 was a record year for Norwegian salmon exports
[Norwaynews] [08.01.2015, 01:22pm, Thu. GMT]
Norway exported salmon worth NOK 43.9 billion (USD 5.7 billion) in 2014, the highest export level ever for salmon and represents an 11 per cent gain on 2013. "Increased salmon production in Norway combined with strong demand and record salmon prices have contributed to set a new export record for Norwegian salmon," said Paul Aandahl, branch manager for salmon and trout at the Norwegian Seafood Council.
World's Longest Subsea Cable Between Norway and Britain Awaits Final Decision
[Norwaynews] [06.01.2015, 04:28pm, Tue. GMT]
Norwegian grid operator Statnett is expected to make a final investment decision in the first quarter on a 1.5-2 billion euro project for what would be the world's longest subsea cable. The power inter connector to Britain aims to secure power supplies in both countries. According to Statnett's website, the project will provide benefits to both sides. When there are higher winds Norway will be able to import power from the British at a lower price than in the Norwegian market and conserve the water in its many hydropower reservoirs.
Norway's Statoil dumps U.S. shale acreage
[Norwaynews] [23.12.2014, 12:28pm, Tue. GMT]
After suspending some rig work to save capital, Norwegian energy company Statoil said Tuesday it sold acreage in a key U.S. shale play for $394 million. Statoil said it sold a 6 percent stake in the Marcellus shale play to U.S. company Southwestern Energy, leaving the Norwegian company with a non-operated 23 percent interest in the region. Statoil in 2008 entered Marcellus through a joint venture with Chesapeake Energy and now says the divestment is part of its optimization strategy.
Shell sells off downstream business in Norway
[Norwaynews] [18.12.2014, 08:56pm, Thu. GMT]
Shell has signed an agreement to sell off some of its assets in Norway to Finnish company ST1. ST1 will take over Shell's retail and commercial fuels along with its supply and distribution business. The sale is expected to be completed next year, subject to approval, with agreement for the Norwegian company to operate under the Shell brand.
Oilman becomes milkman as Norway's best jobs disappear
[Norway] [12.02.2015, 06:10pm, Thu. GMT]
When Joergen Langaunet started as a project planner at offshore engineer Aker Solutions ASA in 2012, he worked a lot of overtime. Norway's oil industry, so rich it spawned the world's largest sovereign wealth fund, was booming. Then last year, he realised he was spending most of his time in the lunch room: His services weren't needed. In September, as crude prices were on their way to the biggest plunge since 2008, Langaunet lost his job. Today he's a regional manager for Tine SA, Norway's biggest dairy producer.
Oil Slump Will Not Affect Norway
[Norway] [11.02.2015, 04:37pm, Wed. GMT]
One of Norway's most popular politicians, former Prime Minister Kjell Magne Bondevik is probably the world's first statesman who admitted that he suffered from depression while in office. For his honesty and willingness to speak of his psychological disorder, Bondevik was commended and received thousands of letters offering support.

US Atlantic salmon imports from Norway surge more than 40% in 2014
[Norwaynews] [06.02.2015, 08:28pm, Fri. GMT]
US imports of Atlantic salmon last year rose more than 5% over 2013 levels, with the spend on the fish jumping 14.3% and imports from Norway surging more than 40%, National Marine Fisheries Service Data shows. The nation brought in 246,200 metric tons of Atlantic salmon products last year, up 5.2% from 2013 imports of 234,000t.
Norway's housing market in trouble
[Norwaynews] [30.01.2015, 09:39pm, Fri. GMT]
The ongoing crude price slump and falling interest rates are taking a toll on Norway – Europe's biggest oil exporter. The biggest problem can be seen in Norway's housing market. The central bank cut rates in December. "Lower interest rates and strong competition in the mortgage lending market could contribute to continued rapid growth in debt and house prices," Morten Baltzersen, head of Norway's Financial Supervisory Authority, said in an emailed reply to questions from Bloomberg. This could drive the housing market into a "self-augmenting spiral," he said.
Norway exports seafood worth NOK 900m in 2014
[Norwaynews] [27.01.2015, 10:31am, Tue. GMT]
Norway has exported seafood worth NOK 900 million more than the total sale in 2014. "Already at the start of December we can conclude that 2014 will be the best year in history for Norwegian seafood,"says Christian Chramer, communications director in Norway's seafood council. So far this year, including the month of November, Norway has exported seafood worth NOK 879 million more than the total sale in 2013.
Norway Mandates Columbia with Sustainability Study
[Norwaynews] [09.01.2015, 06:32pm, Fri. GMT]
The bank responsible for investing the world's largest sovereign wealth fund (SWF) has asked Columbia University to examine how sustainability factors affect mining sector profitability. The New York City-based institution was awarded a three-year grant by Norges Bank to chart the impact of environmental changes on copper and gold mining.
Commission and Norway fight over single market contribution
[Norwaynews] [07.01.2015, 12:58pm, Wed. GMT]
Norway claims that the European Commission has asked the Scandinavian country to double the amount it gives to the European Economic Area (EEA) over the next five years. The Commission is currently in the middle of discussions with the EEA countries Norway, Lichtenstein and Iceland on their financial contributions until 2020. Norway paid around €1.63 billion for its EEA membership the past five years.
Scandic Hotels expands in Norway
[Norwaynews] [27.12.2014, 03:41pm, Sat. GMT]
Scandic Hotels continues to expand in the Norwegian hotel market by acquiring hotel operations in Bergen from owner Bergen Hotel Gruppen AS. Scandic will take over three hotels: Scandic Neptun, Scandic Bergen City and Scandic Strand with a total of 630 hotel rooms and some 40 conference rooms. Scandic will then operate six hotels in one of Norway's most expansive hotel markets, which is also the second largest hotel market in Norway.
SCG announces acquisitions in Norway, Indonesia
[Norwaynews] [18.12.2014, 09:01pm, Thu. GMT]
Siam Cement Group (SCG) has announced its acquisitions of a stake in Norner Holding, a Norwegian chemical-research company specialising in polymers, and in Indoris Printingdo, a packaging manufacturer in Indonesia. SCG Chemicals Company, a wholly owned subsidiary of SCG, has purchased an initial 51-per-cent stake in Norner, with the remaining 49 per cent to be acquired by next September, SCG president and chief executive officer Kan Trakulhoon told the Stock Exchange of Thailand yesterday.

Meyer Bergman makes acquisition in Norway with a purchase in Central Oslo for €30 mln (NO)
[Norwaynews] [18.12.2014, 01:41pm, Thu. GMT]
Meyer Bergman's second value-add retail real estate investment fund has acquired a mixed-use building in central Oslo for approximately €30 mln from a venture between Søylen and Madison International Realty. It is the first acquisition in Norway by funds advised by the London headquartered investment manager. Meyer Bergman European Retail Partners II has acquired a nine-storey, 6,500 m² building on Grensen, which runs parallel to Karl Johans Gate, Oslo's prime retail street.