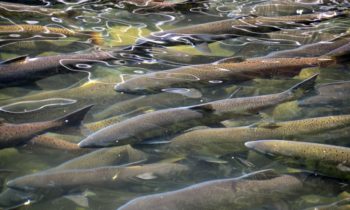 An independent biologist is saying "finally" after the Department of Fisheries and Oceans admitted it has detected a potential disease in farmed fish.
"This is truly astonishing. I'm actually thunderstruck that they came forward with it," says Alexandra Morton.
She began sounding the alarm about heart and skeletal muscle inflammation three years ago, and is relieved federal scientists are now acknowledging its presence.
Morton is convinced the disease is caused by the Piscine Reo-Virus, a virus that was first discovered in farmed Chinook salmon in 2012. While is DFO acknowledges there is an "association" between the virus and the disease in Norway's farmed salmon, it maintains any relationship between the virus and the disease in BC remains unclear.
The DFO also says the disease is not necessarily linked to higher mortality rates for farmed salmon, but its potential impact on wild salmon is what worries Morton.
"Farmed salmon often can recover from the disease. But a wild salmon with a damaged heart is not going to survive. They don't have food dropping from the sky like farmed salmon do. They have to chase down their food and escape from predators."
Morton says Canada has a lot to learn from what's happened in Norway.
"Norway is trying to develop a vaccine for this virus because it's causing such an impact on their industry. There is evidence that wild salmon infected with this virus are having trouble getting up the rivers."
Morton, meanwhile, is still embroiled in a court case involving the DFO and a company called Marine Harvest. Last year, a judge sided with Morton, who argued fish infected with viruses should not be transferred to ocean pens. But the DFO has appealed that decision. A hearing had been scheduled for next week, but it has now been adjourned until the fall, because the DFO says it found new evidence that it needed to go over before going through with the case.
(NEWS 1130)